Awards and Recognition
Outstanding Contribution to the Profession Award
This is the highest honour awarded to an APPI member, recognizing long term commitment to the Institute and volunteerism.  The recipients of this prestigious award have demonstrated exemplary leadership in the planning profession and have contributed to the Institute in a number of capacities.  
2016 Recipient
Gary Willson, RPP, MCIP
Click here for details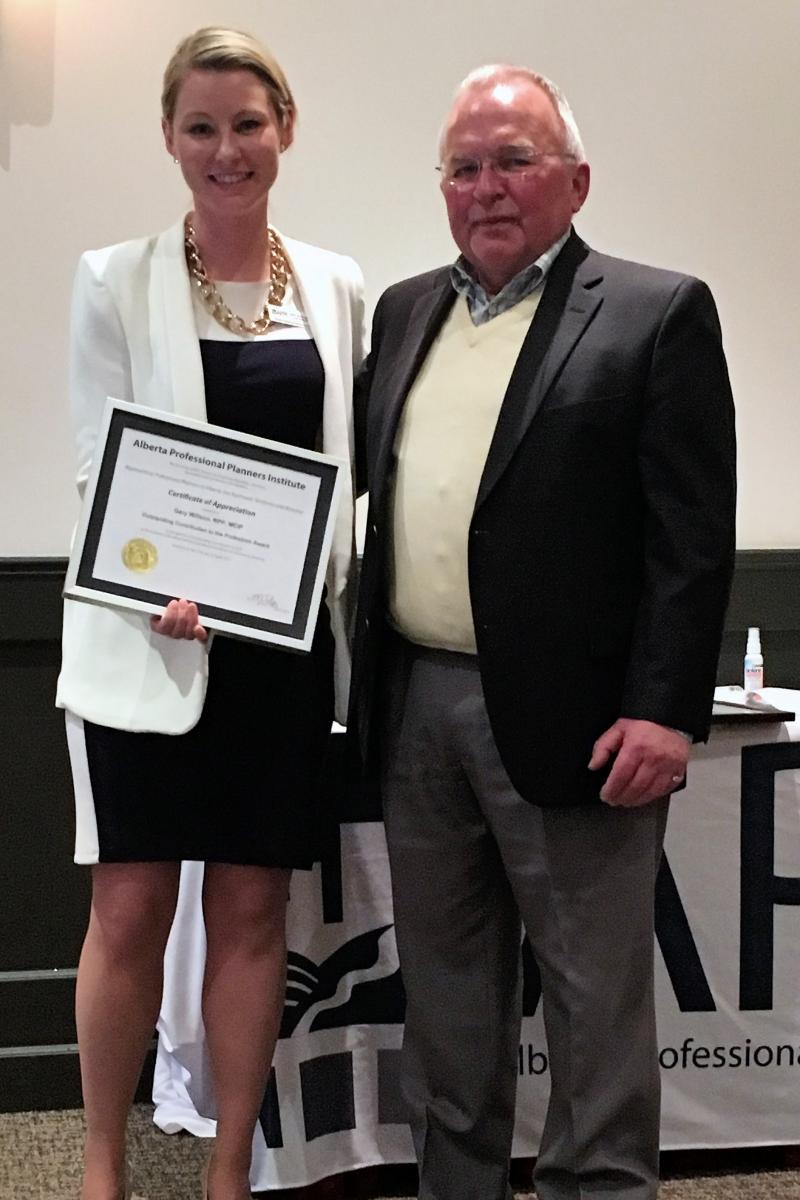 Misty Sklar, RPP, MCIP APPI President and Gary Willson, RPP, MCIP
Previous Years Honoured Recipients
Gary Buchanan, RPP, MCIP
Nancy Hackett, RPP, MCIP
Harry Harker, RPP, FCIP
Greg Hofmann, RPP, MCIP
Wayne Jackson, RPP, MCIP
Brian Kropf, RPP, MCIP
Leo Kylo, RPP, MCIP
Frank Liszczak, RPP, MCIP
Richard Parker, RPP, FCIP
Stan Schwartzenberger, RPP, MCIP
Bill Shaw, RPP, FCIP
Gail Sokolan, RPP, MCIP
Bill Symonds, RPP, MCIP
Ron Ui, RPP, MCIP
Gary Willson, RPP, MCIP
Roy Wright, RPP, MCIP
World Town Planning Day
Online Conference November 6-10, 2017
Local Events - details TBA
Online Learning Opportunities - a great way to earn Continuous Professional Learning Units!
Simon Fraser Free Webinar October 23, 2017
Free Roaming and Walkability — Enhancing urban design, cities and spaces for wellness and well-being
Click here for details and to register
University of Victoria Upcoming Online Courses in 2018
Ecosystem Design through Propagation of Native Plants
Soil Conversation and Restortaion
Restoration of Freshwater Aquatic Systems
Click here for details and to register