Awards and Recognition
Outstanding Contribution to the Profession Award
The Outstanding Contribution to the Profession Award was established by the Institute in 2008.  This prestigious award is the highest honour awarded to an APPI member, recognizing long term commitment to the Institute and volunteerism.  The recipients have demonstrated exemplary leadership in the planning profession and have contributed to the Institute in a number of capacities.  Nominees for the award are solicited from the APPI membership at large and the final recipients are selected by an volunteer adjudication committee.
2016 Recipient
Gary Willson, RPP, MCIP
Click here for details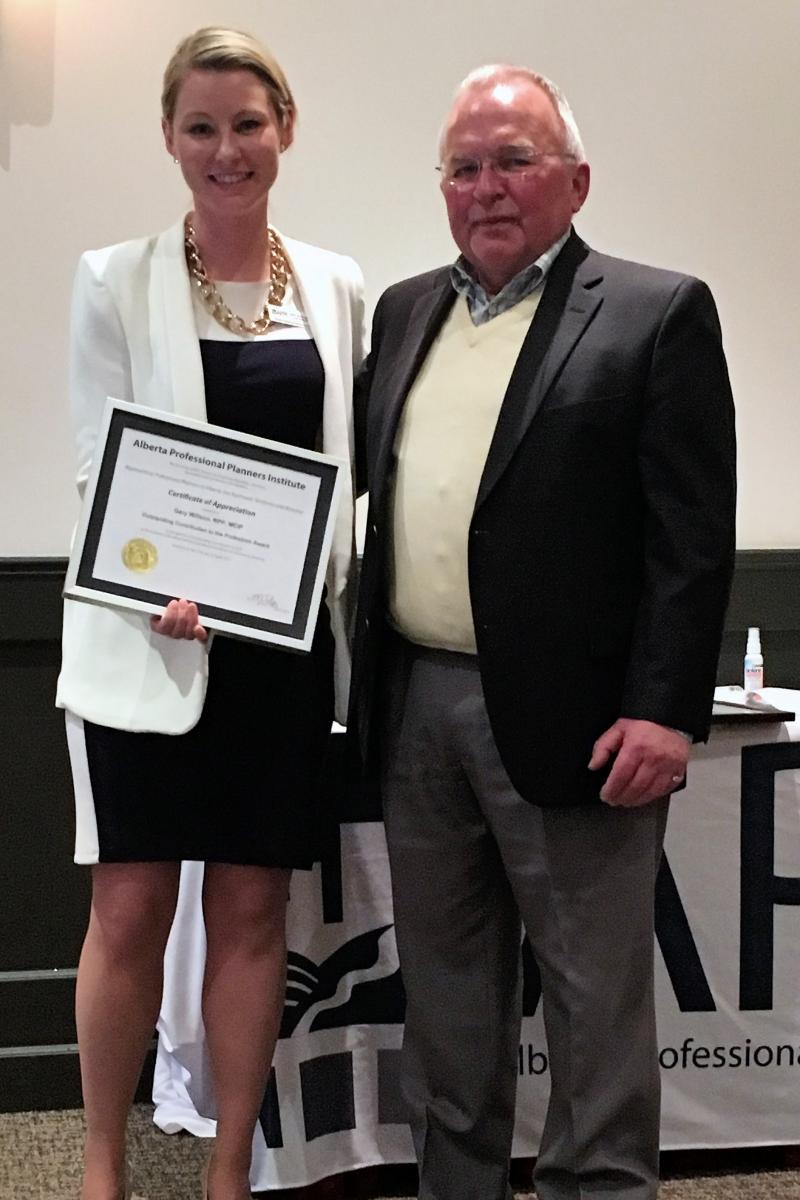 Misty Sklar, RPP, MCIP APPI President and Gary Willson, RPP, MCIP
Previous Years Honoured Recipients
Gary Buchanan, RPP, MCIP
Nancy Hackett, RPP, MCIP
Harry Harker, RPP, FCIP
Greg Hofmann, RPP, MCIP
Wayne Jackson, RPP, MCIP
Brian Kropf, RPP, MCIP
Leo Kylo, RPP, MCIP
Frank Liszczak, RPP, MCIP
Richard Parker, RPP, FCIP
Stan Schwartzenberger, RPP, MCIP
Bill Shaw, RPP, FCIP
Gail Sokolan, RPP, MCIP
Bill Symonds, RPP, MCIP
Ron Ui, RPP, MCIP
Gary Willson, RPP, MCIP
Roy Wright, RPP, MCIP
APPI's Own Top 50 Under 50
APPI is proud to congratulate Erin O'Neill, RPP, MCIP, APPI President and Jamie Doyle, RPP, MCIP,  APPI Councillor, as recipients of YMM McMurray Magazines 2017 Top 50 Under 50. Click here to access the full magazine article.
CIP/MPPI SOUL 2018 Conference - Call for Presentations
The CIP/MPPI SOUL 2018 Conference Programming Committee is now accepting abstracts for presentations. Refer to the SOUL 2018 page on the CIP website: http://www.cip-icu.ca/Soul_2018